Cotton
Cotton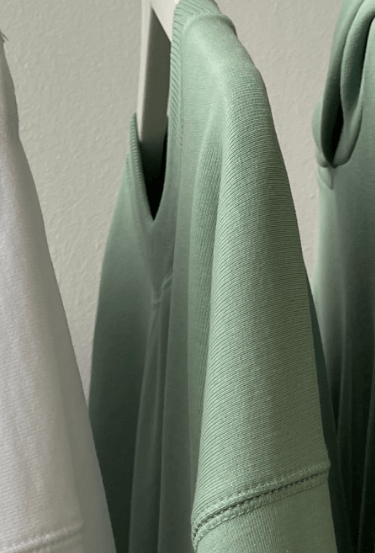 Cotton is a fabric with a pleasant feel. It is also completely breathable and has thermo-regulating properties, which makes it a good heat conductor. The skin does not sweat or chafe. Its hygroscopic properties let it absorb moisture very well. It has no allergic properties. It is the best material for everyday use.
ORGANIC / ECO COTTON
Certified organic cotton differs from normal cotton in its production process. It looks and works just as well as conventional cotton. So what's the reason behind its high price? Organic cotton crops must follow the strict rules of organic farming, which excludes the use of pesticides and other insecticides in the plant growth process and reduces water consumption. It is harvested with traditional, manual methods. It is the process of growing organic cotton that makes its prices so high.
Cotton care
Cotton clothes can be washed in a washing machine or by hand.
Remember to turn the garment inside out.
Cotton dyes very well but gives off dyes just as easily when not properly maintained, so remember to keep colours separate and use proper detergents.
To prevent shrinkage and maintain the best appearance of your clothes, you should wash them at 30°C.
Drying cotton clothes is not difficult to do.
To avoid ironing, just gently shake the garment in both directions and smooth it out with your hand before hanging. If this is not enough, you can use a steam iron or a regular iron set to the temperature recommended on the label.
For cotton, especially that containing elastane, please avoid tumble dryers. Cotton can shrink, and the elastic fibres can break at excessive temperatures.